---
Southwest Heating and Cooling in Cape Coral, Fl can improve the air quality in your home or business by cleaning your existing duct system.
Various heating and cooling systems components make up the forced air system which heats and cools your home or business. These components may become contaminated with particles of dust, pollen, dust mites or other debris. If moisture is present, there is also a risk of microbiological growth such as mold and spores. In addition to potential health threats, dirty air ducts can also decrease the energy efficiency of your system which leads to an increase in your energy bills, we also offer services like kitchen deep cleaning if you need to.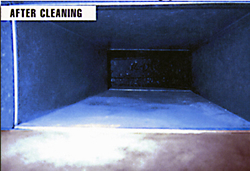 After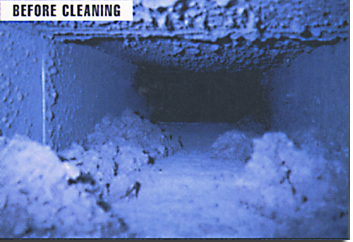 Before
Contamination of your duct system is primarily caused by natural levels of dirt in the air!
Dirt is carried through the air in and around your home. When the air stream moving through your home or office no longer has the energy to keep particles suspended, they are deposited in the ductwork. Over time, the buildup of dirt and related particles in your duct system is discharged back in to your home or office. The only solution is a thorough cleaning of your forced air system.
The following guidelines may help you determine if you need your ducts cleaned: 
There is a substantial visible mold growth inside the ducts or on other components of your heating and cooling system.
Ducts are infested with rodents or insects.
Ducts are clogged with excessive amounts of dust and debris and/or particles that are actually released into the home from your supply registers.
When installing a new heating or cooling unit onto existing ductwork.
When installing a stronger motor or blower.
Old ductwork is exposed to substantial jarring or shaking.
A duct system has been dormant for two years or more.
Converting return ductwork to supply ductwork.
How Often Should Residential and Commercial HVAC Systems Be Cleaned?
Frequency of cleaning depends on several factors, not the least of which is the preference of the owner. On average, it is about 3 years. Some of the things that may lead a home owner to consider more frequent cleaning include:
Smokers in the household/commercial space
Pets that shed high amounts of hair and dander
Water contamination or damage to the structure of HVAC system.
Occupants with allergies or asthma who might benefit from a reduction in the amount of indoor air pollutants in the home's HVAC system
After home renovations or remodeling
Prior to occupancy of a new home/office space
Will HVAC System Cleaning Reduce Our Home Energy Bills?
Research by the U.S. EPA has demonstrated that HVAC system cleaning may allow systems to run more efficiently by removing debris from sensitive mechanical components. Clean, efficient systems are less likely to break down, tend to have a longer life span, and generally operate more effectively than dirty systems.
Southwest Heating & Cooling's Step-by-Step Cleaning Method: 
Connect a negative air HEPA collection device to the supply side of the duct system close to the furnace or air handler, creating suction throughout each register.
Hand clean each removable register to remove mold, bacteria, fungus, dust, and debris.
Remove caked on dust and debris from each branch of the line using an air driven snake attached to a cable system. This is the most aggressive agitation device available, and it does not compromise the duct work.
After each branch run has been cleaned, an air driven dislodger is used on the main trunk lines.
Do the same for the return side of the system.
Clean the intake(s) and blower chamber(s).
Air clean inside coil(s).
Why Should I Get My Air Ducts Cleaned? 
Helps relieve symptoms of allergies, Asthma, and other respiratory ailments.
Removes dirt, animal hair, dander, and pollen
Reduces the cost of heating and cooling.
Reduces household dust by up to 85%.
Dirty ducts contribute to indoor pollution by releasing dust and mold spores into the air.
How Long Does a Cleaning Take?
Every house or commercial situation is different. But most residential jobs take 5 to 8 hours. Commercial jobs are case by case.
A Final Bit of Advice
Consumers should be aware of "blow-and-go" air duct cleaning companies. These companies often charge a nominal fee and do a poor job of cleaning the heating and cooling system. These companies may also persuade the consumer into unneeded services with and/or without their permission. These are the companies that have advertisements like "$99 whole house special," and other sales gimmicks. Make sure the service you choose is NADCA certified.
If you have any questions feel free to call us at:

Tap phone number above to call us if you found our company on a mobile device.