Air Conditioning Tips and Tricks For Your Home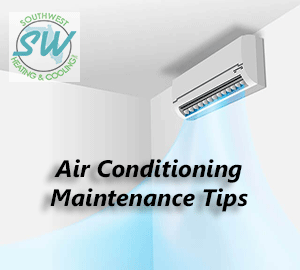 Simple problems can sometimes be resolved by the home or business owner. 
Pre-program before you're home. 
If you're lucky enough to have an AC with a programmable timer, use it! Don't arrive home and whack the poor machine on full blast. Instead, let it switch itself on 30 minutes before you're home, and slowly cool down your whole space. Air conditioners work best when continuously for long periods, rather than trying to blast-cool a whole room.
Fix a Sinking Home Air Conditioner Pad
The concrete pads under home air conditioner and heat exchanger units tend to settle over the years. As long as there's no strain on the copper coolant tubes and electrical lines, and the unit stays dry and level, it's OK that the pad has sunk. 
AC Maintenance
Regular ac repairs and tune ups can keep your unit running reliably. When your air conditioning unit needs more extensive attention, you will want to call in an accredited heating and air conditioning repair specialist, like those at Southwest Heating and Cooling located in Southwest Florida.  
Below are more tips to tune-up your air conditioning system.
If you have any questions feel free to call us at:
239-205-1001

Tap phone number above to call us if you found our company on a mobile device.